When your child is 2+, as a parent, one of the most important decisions is to make the right choice of pre school for your child. This is so because attaining quality education has become the need of the hour. Now–a–days, a number of schools with varied facilities have come up. Hence, it has become difficult for the parents to make the correct choice. Some of the most common questions asked by majority of parents are:


Which is the right school for my child?

What are the facilities available?

What are the previous results?

Who are the organizers?

Are they educationists?

What are their qualifications?

Will my child be happy?
 As 50% of the brain development takes place during the prime growth years of the child, i.e. 2-4 years, it is critical that you make the right decision so as to ensure that your child receives the right foundation for life.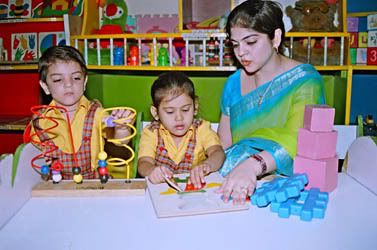 Call the preschools you might be interested in and set up a time to visit. You should probably make an appointment for your first visit to the pre school, so that you can be assured that the Headmistress will be there and that you will not short staff them while someone shows you around. Some of the questions that you might want to ask during the telephonic conversation are listed as follows:

Is there an opening for my child?

What are your pre school hours?

Where is your pre located?

Do you provide transportation?

Do you give the children meals or snacks?

When can I visit your pre school?
During that first visit, carefully observe while discussing in more detail some of the questions you have already asked or others that concern you. When you visit the branch, see if Children appear happy, content and actively engaged with what they are doing. There are several other factors that should be taken into consideration while making one of the most important choice: Firstly, keeping in view the travel time, pollution on the roads, safety and stress on the child, the pre school should be near to the child's home. So, parents are advised, that they should seek admissionsin a pre school which is near to their house, in line with the neighborhood policy and not make their child travel long distances at this age. You should also consider preschools that offer a safe and nurturing environment for your child. When you drop a child off for pre school, you want to be assured that she or he will have the nurturing and learning environment they deserve, leaving you with the ability to concentrate on your work responsibilities. You should check whether, you'll receive weekly progress reports, the ability to walk in or call at any time of the day, a structured curriculum tailored to your child and more. Looking at the facilities, firstly the activity rooms should be well equipped with sufficient material. The environment, furniture and the activity material should be colourful & safe with a neat, clean and child friendly ambiance. The facilities should be such that your child can use and enjoy and are not just decoration pieces. The preschool setting should be safe, adequately lit and maintained to a good standard of hygiene. There should be a broad range and generous supply of toys and equipment easily accessible to children and adequate personal space for children to play. Children deserve comfortable, well-equipped premises that are carefully looked after. Children should be able to see toys, books and fun equipment & reach some of it themselves. Fresh, healthy food and snacks should be available.
Organizers and the staff are the backbone of any institute. So, the parents should look for a pre school organized by a team of well – educated, knowledgeable professionals with the right aptitude and love for children. It is important that the school system has been designed by and is run by reputed educationists. The Pre school should have a well–designed, well coordinated and planned system as it becomes easy for the  children. The Pre school should have a systematic pattern to continuously update its system with the latest techniques and also to keep themselves upgraded with the changing requirements of the society and the child. Working with children is a skilled and demanding job. The teachers should have the special qualities that distinguish a good teacher i.e. patience and understanding. They should be creative, innovative and resourceful, so as to satisfy a child's curious mind. The staff should be selected systematically by the school authorities and have regular orientations and trainings on the latest teaching methodologies. Training gives people skills and confidence. It helps staff to deliver a top quality service to your child. On visiting the branch, notice if the staff has been genuinely caring, has a friendly relationship with the children, it should have a calm atmosphere with no raised voices. You would also want your child to be prepared well for senior school admissions so, you should ask if the preschool conducts mock interviews for parents and children, mock interviews of the children by external teachers, organizes parenting workshops & orientation sessions by experts. Also, you may enquire about picnics, outings, cultural functions, sports days etc. and whether there will be any additional charges for the same. Some preschools tend to ask money for stationery, picnics and other things later on which you should clarify right at the onset. A preschool which commits that there will be no charges for such things later on is a wiser choice rather than going in for one with hidden costs. Consider the number of Years of experience the  pre school has in the education  industry. The older schools have experience of handling a variety of children and you will benefit from the rich understanding of child psychology. Another thing to check out before choosing the preschool for your child is the performance of the school's alumni in senior schools. You can talk to other parents on how happy their children were in the pre school and senior schools. Also,  talk to teachers in senior schools as to which preschool's children tend to be selected in their schools and also do better in later classes. An established brand with a proven education system is safer than risking your child's future with an unknown name so check out schools that are well established and have a solid reputation in the city. And finally, think if "I WOULD BE HAPPY HERE IF I WERE A CHILD & I FEEL COMFORTABLE LEAVING MY CHILD HERE" You should get your answer! Your child deserves the best, but I leave this privilege to you to decide for your child. Every child deserves to go to a school where he is happy, has lots of fun, learns gradually without any stress and strain. Try to talk to the parents of a child already going to the school you have chosen because they will be the ones to tell you, if your chosen school will give your child good foundation and help him to carry on to the right school of his capacity.

.button1 {background-color: orange;border-radius: 2px;box-shadow: 0 8px 16px 0 rgba(0,0,0,0.2), 0 6px 20px 0 rgba(0,0,0,0.19);color: #ffffff;font-size: 17px;text-align: center;padding: 12px;font-weight: bold;}
a:hover {
text-decoration: none;
}
a{
text-decoration: none;
}